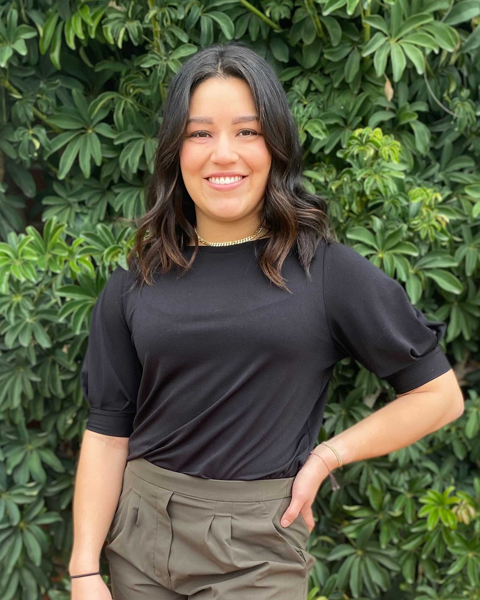 Dr. Roxy Rodriguez
D.C
Technique I Use: Diversified adjusting, drop table adjusting, extremity adjusting, activator, myofascial release, functional movement correction, and family care.
About My Practice: My holistic practice is rooted in acknowledging and respecting each individual's experiences and taking those into account when starting care. I strive to educate each individual in order to get them aware of their body and take ownership of their health so they too can be an active participant in the healing process.
Working with anyone from kids to parents to athletes of all types, my goal is always to get to the source of the problem and elevate my patients overall quality of life.
About me: I went to the University of Alabama for my Bachelors in Exercise Science and have a slight obsession with Alabama football so "Roll Tide" is a part of my vocabulary!  I'm  a beach bum at heart and will be in the sun any chance I get. After being a competitive gymnast for 14 years, living an active lifestyle is a huge part of my life so Olympic Lifting and Crossfit  have kept me fit and healthy for the past 7 years.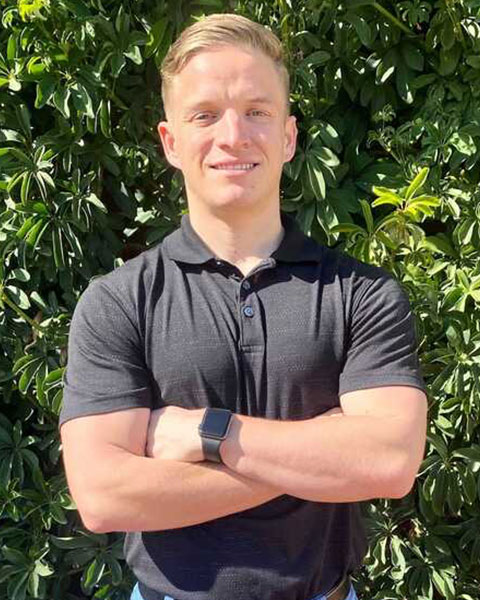 Dr. Bradley Fitzgerald

D.C.
Techniques I Use:Diversified adjusting, extremity adjusting, myofascial release, instrument assisted soft tissue manipulation, activator adjusting, therapeutic exercises, soft tissue therapy
About My Practice:I strive to provide holistic care and go after the root of the problem rather than simply treating the symptoms. I fell in love with chiropractic after numerous personal trips growing up from a variety of different sports injuries. I specialize in treating injuries ranging from sport-specific to everyday problems.
About Me: I live and breathe all things sports from watching to playing, and in my free time I enjoy escaping up to the mountains to snowboard on my day off or checking out the new local brewery.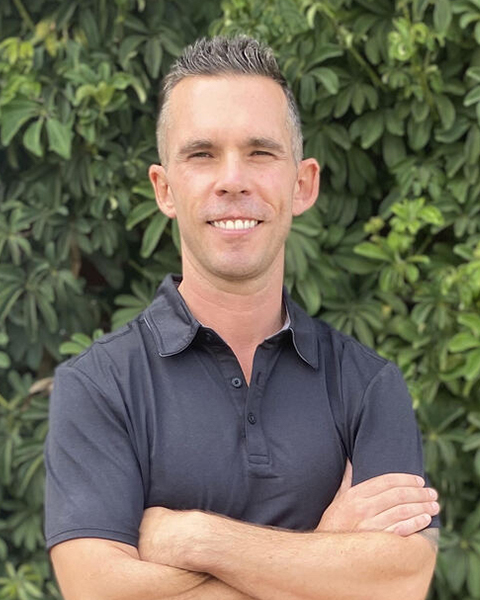 Dr. Paul Peterson
D.C., D.A.C.N.B.
Techniques I Use: Diversified adjusting, drop table, myofascial release, PNF stretching, functional medicine, functional neurology, whiplash rehabilitation, prenatal care.
About My Practice: My practice is heavily influenced by my own experiences. I had 2 hip replacements by age 22. After years of compensation and continued limitation I started chiropractic care as a patient. Totally changed my life in 6 months and I decided to make it a career out if it.
A standard session with me utilizes adjusting, muscle work and/or stretching, and probably some dry humor. Specialties in hip issues and joint rehab & TMJ. I enjoy working w/ runners, cross-fitters, & weekend warriors. Also a Board Certified Chiropractic Neurologist and enjoy working w/ concussion and chronic pain.
About Me: I enjoy backpacking, doing yoga, being in the ocean, traveling abroad, and being a "foodie."
Additional Languages: Spanish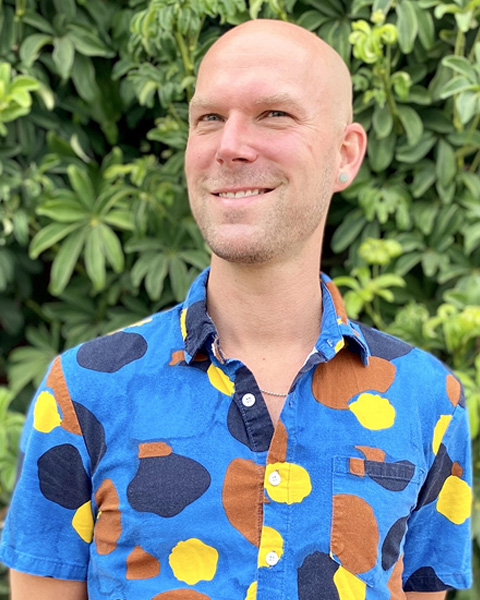 DR. JASON NUMMI

D.C.
Techniques I Use: Diversified adjusting, Activator, Craniosacral therapy, Myofascial release, Active Release, diverse massage techniques, corrective exercise, injury rehabilitation & prevention, pregnancy, pediatric & family care.
About My Practice: Drawing from 15 years of extensive global travel, advanced education, practice as a chiropractor—hinged on craniosacral therapy & myofascial release techniques, with a particular focus on athletes, mothers & babies—and teaching as a college professor of physiology, I listen intently to patients, working with them to progress on their unique healing journey toward their own central axis of health & vitality. My goal is to develop for the patient new patterns of life function that they may continue to keep pain at bay & prevent future loss of health.
My practice has shown me that much hurt is borne out of old muscle memory which limits your ability to function optimally.  Therefore, my mission is to help you more quickly improve your health by increasing awareness of the total self.
About Me: I am a devoted yogi.  I enjoy world travel, gardening, arts (viewing, discovering & creating), and spending quality time with my partner, family & friends.
Additional Languages: Dutch & Spanish comprehension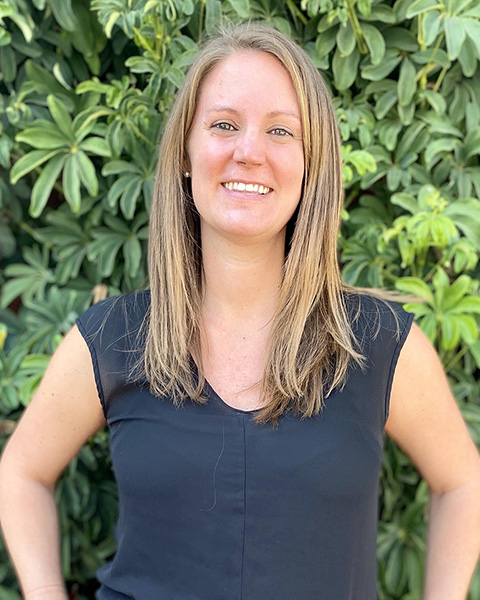 DR. STEPHANIE STENSAAS

D.C.
Techniques I Use: Diversified adjusting, drop table, activator, various soft tissue techniques (including myofascial release, instrument assisted soft tissue mobilization (IASTM), and stretching), kinesiology tape, corrective exercises, prenatal care.
About My Practice: I enjoy working with a diverse group of patients, with special interest in working with families and athletes of all levels. Listening and learning about each patient's goals allows me to develop the best individualized treatment plan for each patient. My goal is to find the cause of pain/dysfunction to work toward long term improvements and changes so patients can continue doing the things they love or get back to doing the things that they love.
I utilize both adjustments and soft tissue work at a typical appointment. I also educate patients on how they can work towards their goals between appointments.
About Me: I like to travel, spend time with family, stay active and am a huge sports fan. I'm originally from Wisconsin so am an especially big fan of Wisconsin sports. I recently moved to San Diego and am always looking for new things to check out in the area!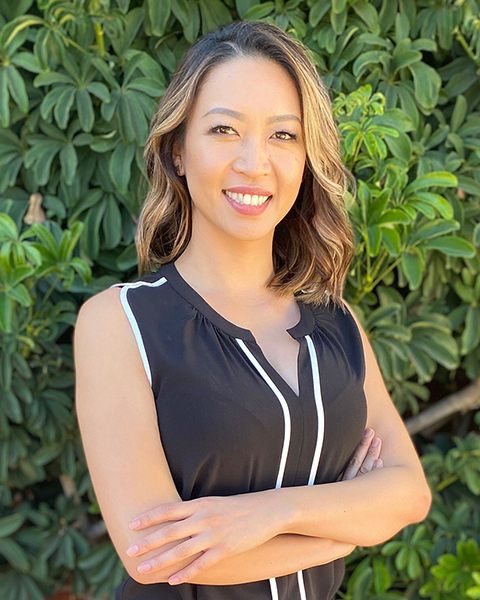 Dr. Vennes Su

D.C.
Techniques I Use: Diversified adjusting, Activator, drop table, proprioceptive neuromuscular facilitation (PNF) stretching, myofascial release, instrument assisted soft tissue mobilization (IASTM), therapeutic rehabilitation and corrective exercises.
About My Practice: I use a holistic approach to help my patients reduce their pain and discomfort. Having the ability to see my patients as a whole allows me to develop a treatment plan specifically to their needs. My goal is to help all my patients achieve their health goal to enhance their quality of life. What motivates me every morning to get out of bed is the joy in seeing my patients progressively improve and take control of their health. I feel very fortunate to be a part of their recovery journey.
About Me: A passion of mine is to learn new ways to strengthen my mind, whether it's by watching inspirational videos or listening to podcasts. I am a strong believer of being a student for life, always striving to learn as much as possible to provide better care to my patients. In my spare time I love to cook, bake, garden, run, read, listen to music, and spending quality time with my family and friends. A motto that I live by is to be better than the person I was yesterday.
Additional Languages: Cantonese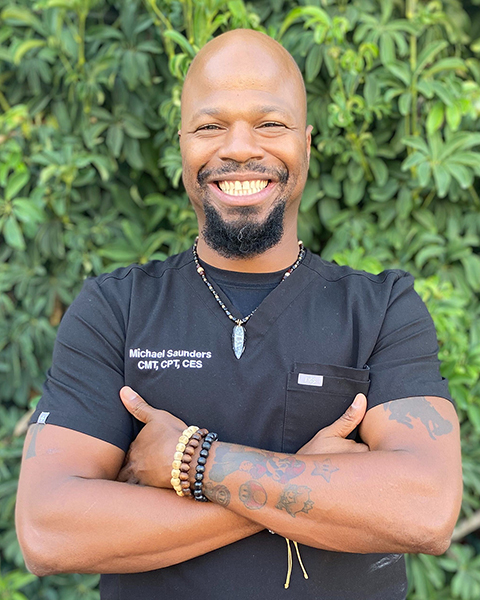 Mike Saunders
C.M.T.
Techinques I Use:Active and Passive Engagement Techniques, Stretch Therapy, Muscle Energy Techniques, Positional Release Techniques, Trigger Point Therapy, and Deep Tissue.
About My Practice: I am a tool that can be used to help your body reach harmony within, and I'm honored your investing time to read my bio. As a tool, I utilize specialized comprehensive assessment techniques, which help to navigate which type of treatment plan works best for you. In my practice, it is about progression not perfection. Becoming a personal trainer and corrective exercise specialist, I believe that education brings awareness, and this is especially important and pivotal in one's own healing process. As a Clinical Rehabilitative Massage Therapist, I have a range of modalities that can help release tension and promote long lasting results.
About Me: I am called to do this work. I absolutely love it and it shows. I am originally from Wyoming and I love the outdoors. Anything that has to do with outside count me in; hiking, boogie boarding, snorkeling, exercising, watching the sunset, etc. I enjoy being around new people and experiencing what life has to offer. Being around my daughter brings so much joy into my life and enjoy doing those activities with her.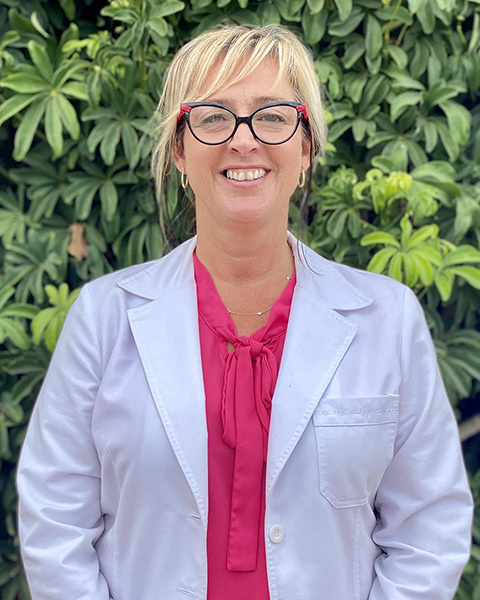 Kimberly Stephenson
L.Ac.
Technique I Use: Traditional Chinese Acupuncture with a gentle touch. Neuropathy, Neuropathic, muscular and orthopedic pain, stress and acute or chronic conditions. I use electric stimulation, fire cupping, PNF stretching, Kinesio Taping and Tui-Na.
About My Practice: I am dedicated to relieving pain and stress. After having a fusion in my spine at a young age I was told that I would be in pain for the rest of my life. Fortunately I was referred to an acupuncturist who after one treatment relieved my pain. I became increasingly interested over the next 20 years in Traditional Chinese Medicine. I read every piece of literature I could find on the subject knew I had to share this medicine with others by practicing it. My treatments are started with listening to the patients concerns and goals. Typically my patients will be given Orthopedic tests to pinpoint the disfunction. I use motor acupuncture points and nerve pathways to address pain and discomfort. Along with the acupuncture, electrical stimulation is used and followed by warm fire cupping, Ending the treatment with PNF stretching and take home exercises to ensure progress.
About me: I enjoy sewing, cooking, painting, traveling the world, skiing and the beach.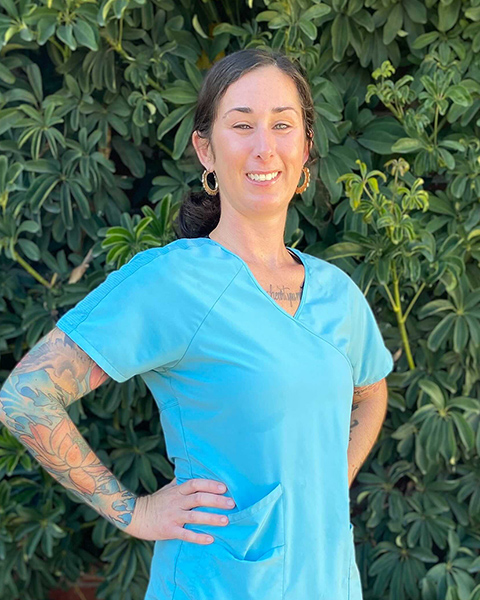 Callie Null
C.M.T.
Techniques I Use: Rehabilitation Massage Therapy, Cupping Therapy, Deep Tissue, Trigger Point Therapy, Myofascial Release, Stretching, Lymphatic Drainage, Active and Passive Engagement Techniques, Aromatherapy.
About My Practice: I believe in the healing power of touch. I have been practicing Massage Therapy since 2006. I enjoy creating precise goals and treatment plans for my clients based on their individual needs. I can address any ailment you may have using techniques to ease pain by reducing inflammation and muscle soreness as well as recovery from injuries and/or surgery. I incorporate relaxing qualities to reduce stress and tension in every massage I perform.
During a session with me usually starts with a good intake. Which allows me to understand your needs and goals for the session. I prefer to look at the body as a whole. Trying to find why to your pain or discomfort. During the session, you can expect muscle testing, some scraping, cupping. Some or all may be incorporated into your session.
About Me: I was born and raised in the Bay Area where I attended Massage Therapy School. Running is my favorite outlet, I also practice yoga, weight lifting, and surfing. The current pandemic has inspired me to enroll in the Nursing Program at MiraCosta College where my interminable pursuit to learn continues. I have two pups who are the loves of my life.